There are so many factors that ruin and damage our hair that if you wanted to keep it it the perfect condition, you would have to visit a hairdresser almost every day. Have you ever wondered whether it is possible to expose the locks to keratin hair treatment without visiting a hair salon? Nanoil proved that professional hair regeneration can be successfully carried out at home – you can do it with their keratin hair mask. Check how easy and effective it is! Repair the damaged hair fast and effortlessly with Nanoil Keratin Hair Mask.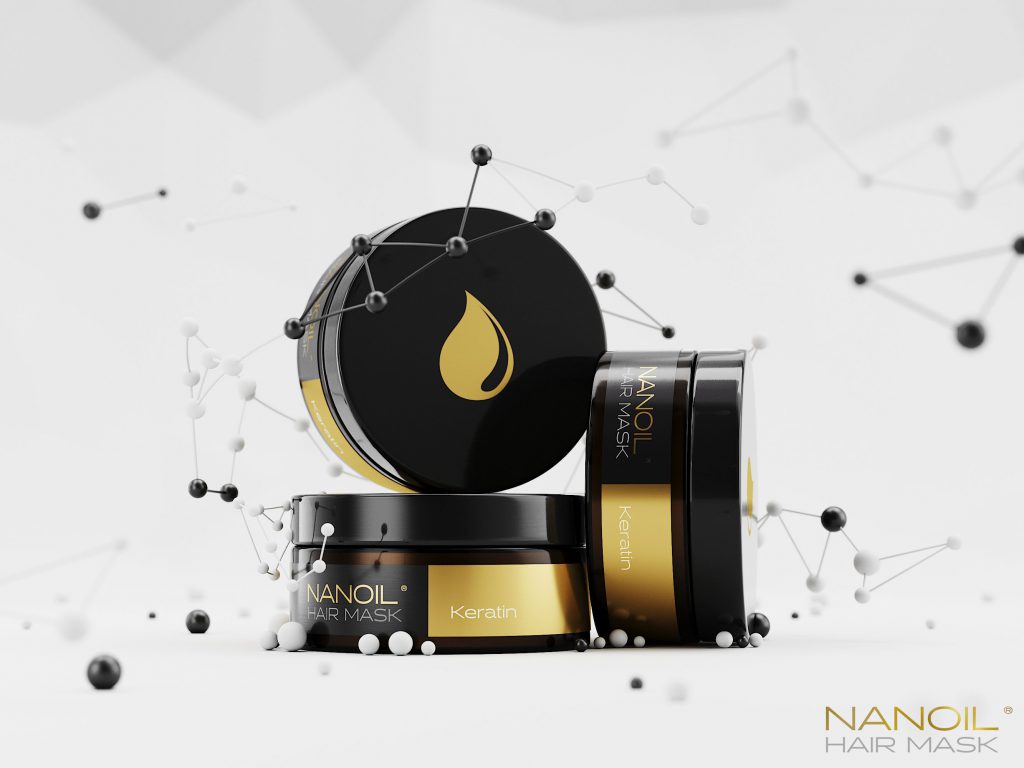 Most common causes of hair breakage
Again, the reasons why hair gets damaged are numerous. The most common ones include the following: having bad hair care habits, using hair care products that don't satisfy the hair needs, generalized weakness caused by excessive stress or a disease, over-processing (especially heat styling), dyeing, bleaching, hormonal fluctuations and many, many more.
How to repair damaged hair?
There are five simple steps to take that will definitely help you restore good looks to your hair. Try the following:
Minimize exposing the hair to the styling procedures that damage the strands the most.
Always scan with your eyes the list of ingredients of the products you want to apply to the hair – look for potentially hazardous substances.
Avoid all heat styling tools (e.g. a flat iron or a curler).
Supply the hair with three crucial substances: humectants (moisturize), emollients (lock the moisture in) and proteins (repair micro-damage).
Reach for a precious protein that is one of hair natural building blocks – KERATIN.
NANOIL HAIR MASK WITH KERATIN
Give Nanoil Keratin Hair Mask a try! This is the best hair repair mask that you can have!
It's highly effective and offers you an intensive hair treatment. Back then, such effects couldn't be achieved without the help of a professional but Nanoil has changed it! Keratin Hair Mask is the hair care product that takes regular at-home hair care to the whole new level, allowing you to expose your locks to professional treatment at home.
Ingredients in Nanoil Keratin Hair Mask
Let's start with the most obvious things, shall we? This Nanoil hair mask is formulated with hydrolyzed keratin. Since keratin shortages appears to be disastrous for hair, we must do our best to keep our tresses supplied with this most important building block of theirs. The molecules of hydrolyzed keratin in Nanoil rebuild hair and fix all the micro-damage that was caused to the hair structure. In other words, Nanoil fills gap by gap in hair with keratin. Even the most serious damage is dealt with quickly.
Nanoil Keratin Hair Mask jar has also room for panthenol that is a precious pro-vitamin responsible for improving hair moisture. On the hair, panthenol serves as a protector shielding the tresses from all types of stressors and aggressors that cause hair breakage.
Benefits of Nanoil Keratin Hair Mask
With this product, you can expect achieving only professional effects. You can take it for granted that Nanoil with hydrolyzed keratin will live up to satisfy all your hair needs. No more than a few uses are required to improve hair significantly, but only one use is needed to get smooth and soft strands. How does Nanoil Keratin Hair Mask benefit your hair?
Repairs damaged hair.
Makes hair stronger from the follicles to the ends.
Reduces brittleness and prevents split ends.
Leaves hair shiny, more resilient and smooth.
Protests against damage.
Adds body to the hair shafts and improves hair manageability.

Directions for use
Nanoil Keratin Hair Mask is a lightweight product that doesn't weigh hair down. Application is sheer pleasure since it doesn't require you to use any foil caps or follow any complex instructions. Once you apply Nanoil hair mask, it envelops hair with a creamy consistency and launches with the repair.
Just take a dollop of Nanoil hair mask and spread it all over your wet hair after washing. Let it sit for a couple of minutes (15 min minimum), rinse and style as always. After a few of such treatments you will see how your strands are getting stronger, fuller-looking and more resistant to the environmental stressors. And the best part of this is that you can enjoy all the benefits without leaving your home!
Nanoil brand is an expert in hair care. It won many women's hearts with oils that promote hair growth, which in fact are dedicated for various hair porosity types. Now Nanoil offers us hair mask for professional hair repair treatment. If you want to get in-salon effects without leaving home, Nanoil Keratin Hair Mask is perfect for you.
Find out more at www.nanoil.co.uk