If you're dreaming of having gorgeous, healthy and shiny hair, you must keep it protected from high temps. Why is that? Because when exposed to extreme conditions, hair becomes weak, dull and brittle awfully fast. The sunlight, hair dryer and flat iron are the biggest enemies of healthy hair! What can you do if you want to arrange a stunning hairdo without risking hair damage?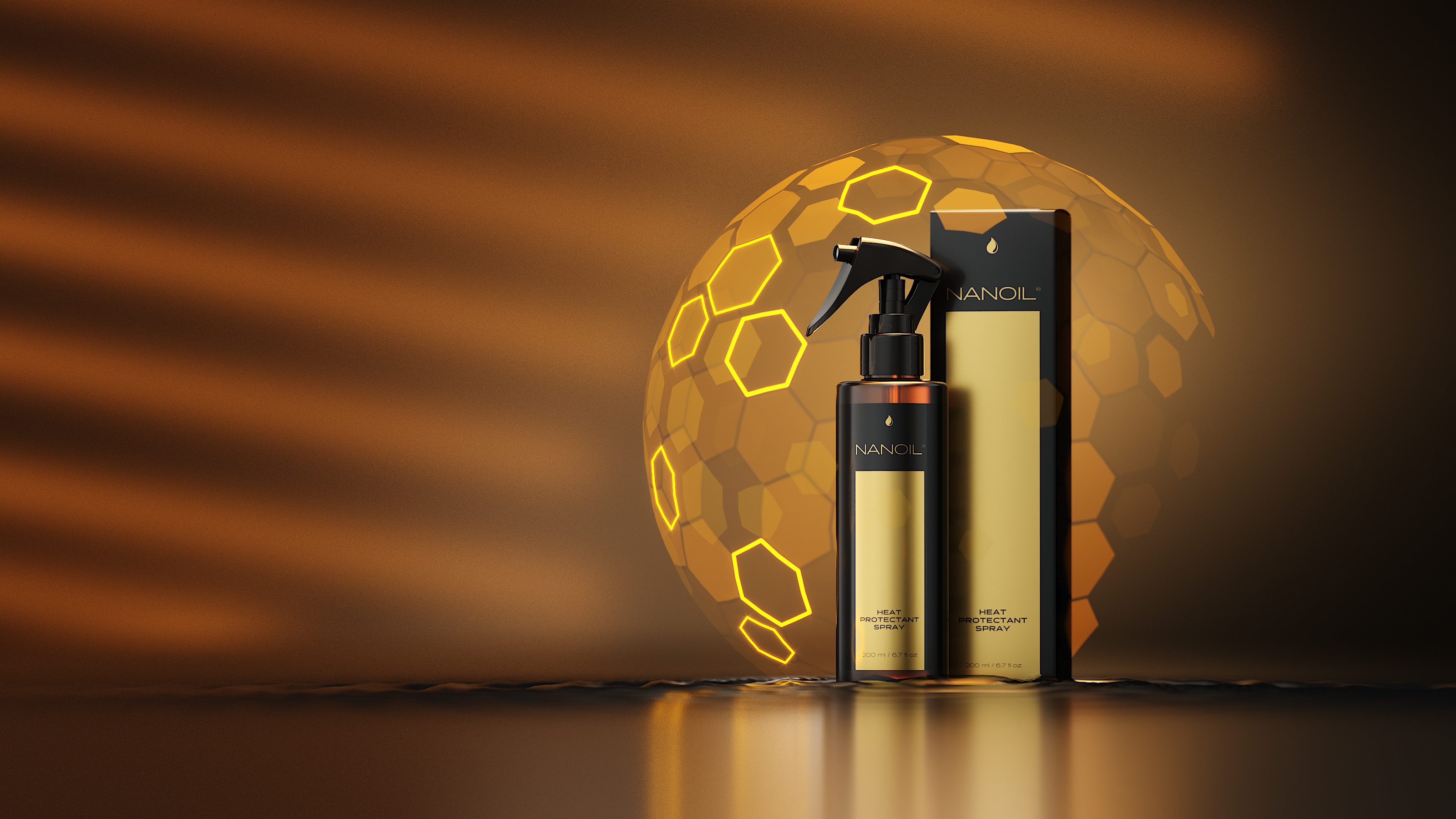 Naturally, you can use heat styling tools without worrying that you will strip the strands off moisture. Before reaching for a curling rod or a straightener, grab Nanoil Heat Protectant Spray first. Why would you do that? Simply because this product is proven to shield the hair from high temperatures, reaching up to 220°C / 430°F. Isn't it great? Keep reading to find out how this amazing product works and what you can gain if you decide to introduce it to your daily hair routine.
How can I keep my hair protected from heat damage?
High temperatures are merciless for hair. Actually they have nothing but negative impact on your mane, being the main cause of dryness, brittleness, splitting and color fade. To prevent this, you need to keep the hair protected from heat damage. That's why you should
cut down on using a flat iron; use it occasionally.
protect the hair from the sunlight; wear hats in the summer.
set a low temperature on the hair dryer; try not to exceed 40°C / 105°F.
use a heat protectant spray.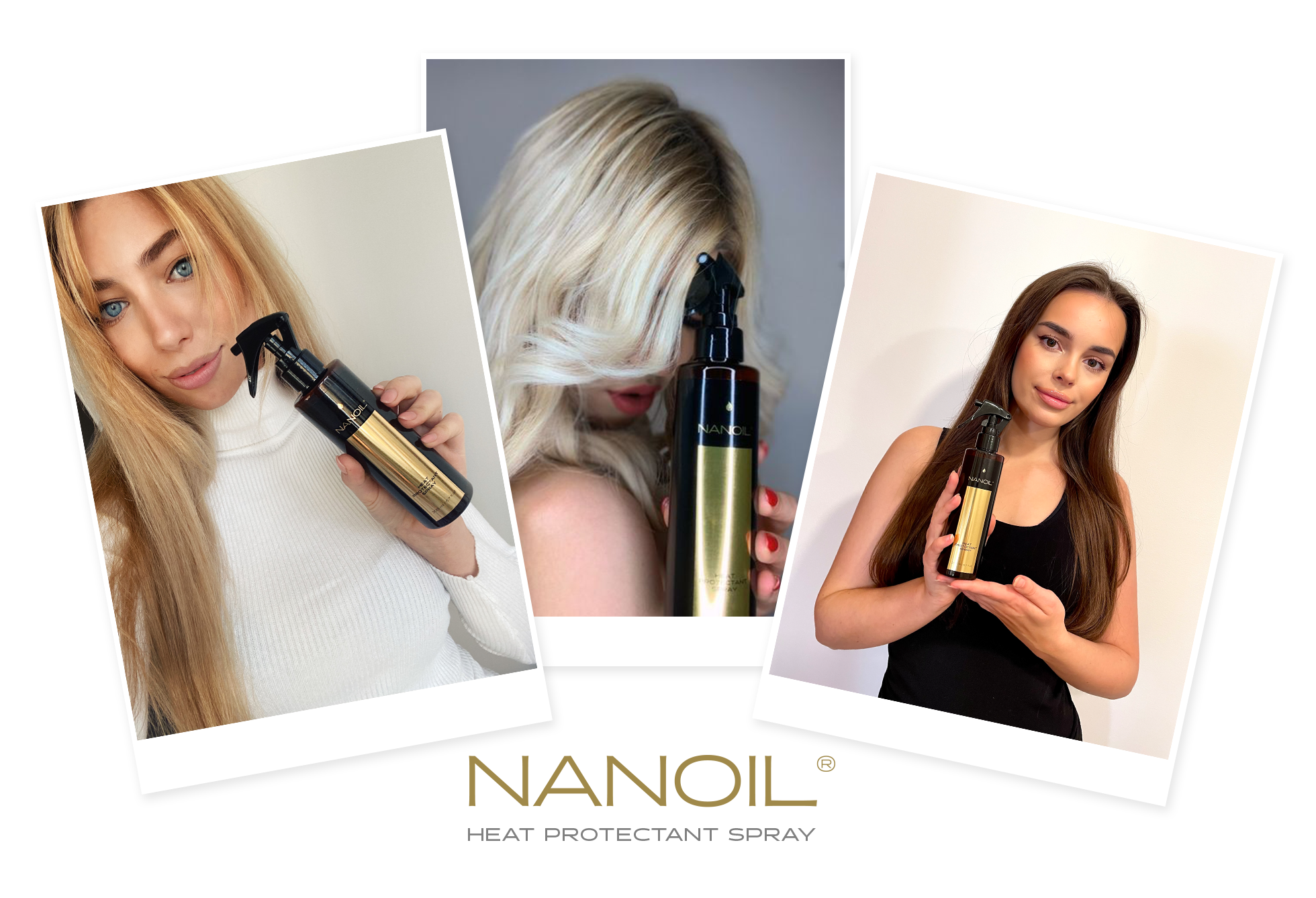 Does a heat protectant spray really work?
As the name indicates, the key task of a heat protectant spray is to shield the hair from the adverse effects of high temperatures. What can be the source of heat? Actually, there are a couple of them, including all heat styling tools like a hair dryer, curling rod, flat iron, as well as intense sunlight, UV light, air-conditioning and heated spaces (e.g. radiators).
A heat protectant spray works in a simple way. When applied to the hair, it coats the shafts with an invisible and weightless layer that isolates the hair from the heat. At the same time such a product locks the water inside the strands, helping them remain hydrated no matter if you are outside or if you're using a straightener.
Nanoil Heat Protectant Spray: The finest thermal protection for your hair!
Why is Nanoil Heat Protectant Spray the best thermal protection for your hair? The answer is simple: this cosmetic doesn't only prevent heat damage but it also improves the appearance of the hair. Silk proteins are an important cosmetic constituent responsible for absorbing and locking water inside the hair. This in turn means that they maintain hydration levels which translates into better-looking strands. Additionally, silk's task is to smooth out the cuticles, making hair stronger and shinier. Apart from shielding your hair from high temperatures, Nanoil Heat Protectant Spray makes it also resistant to high humidity and tangles.
Nanoil Heat Protectant Spray: Key benefits
These effects speak for themselves. This is what you can expect Nanoil Heat Protectant Spray to give you:
Protection from high temperatures.
Smoother, moisturized, shinier and softer strands.
Easy styling and combing.
Prevents frizz and static.
If you wish to learn more about thermal protection spray for hair brought out by Nanoil and get on top of dryness and dullness, visit nanoil.co.uk. Expose your hair to the treatments it deserves.