Whether we like it or not, our hands and feet tell a lot about us. Being the busiest body parts, they happen to be pretty demanding when it comes to keeping them in good condition. Luckily, there are many home treatments known for improving the appearance of hands and feet. Below you will find the top hand and foot treatments to repair damaged skin.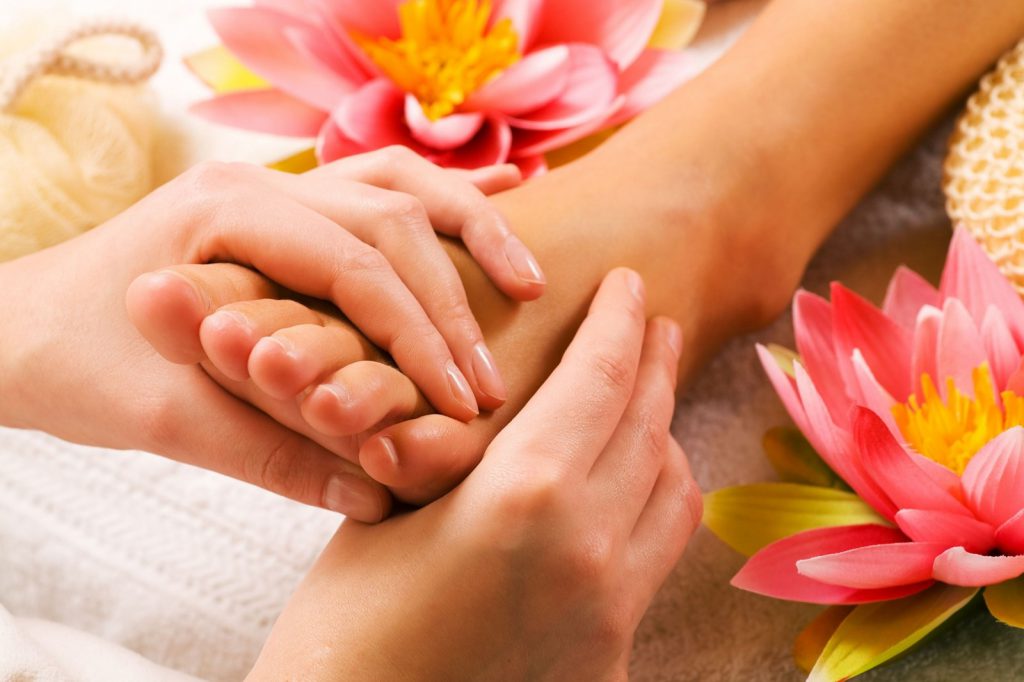 Home treatments for hands
Hand soak
This treatment gives you moisturized and taut hand skin. Hand soak is known for supplying the skin with nutrients so when you suffer from constantly dry hands, give this method a go. At the beginning, try performing the treatment daily for a week or two. When the skin on hands repairs itself, you can use it less often – once or twice a week should suffice. The choice of hand soaks is incredibly wide, yet the most recommended one is the one formulated with linseed and milk. To prepare it, you need two spoons of linseed and one liter of water. Boil the seeds and let the infusion cool down. The best effects are achieved when you dip the hands in warm but not too hot infusion. Keep them submerged for 20 minutes. This hand soak is perfect for dry and extremely damaged hands. Another top hand soak to relieve irritations is made from chamomile and milk. Both ingredients are known for promoting skin repair and restoring skin's pH. Mix a cup of warm milk with a cup of chamomile infusion. Enrich the hand soak with a spoon of argan oil, almond or avocado oil. Keep your hands submerged for about 20 minutes.
Hand scrub
Removing dead skin cells from hands makes the perfect next step that should be taken after finishing dipping hands in a hand soak. New skin that is revealed after exfoliation is more absorbent which means that it takes in and holds a lot of nutrients that you're going to put on skin with a hand cream or hand mask. Making your own hand scrub isn't difficult. Just combine sugar/oat flakes/used coffee with olive oil. For better results, enrich the basic version of hand scrub with lemon juice (for brightening effect) and honey (relieves irritations).
Hand mask
Hand mask is one of the best methods to supply the skin with nutrients. This is a deeply reviving treatment able to leave the skin feeling smooth, moisturized and resilient for pretty long. There are plenty of hand masks to make use of, for example you can go for an egg hand mask that is formulated with one egg yolk, a spoon of honey and a spoon of butter. For better results swap regular butter for cosmetic butter which is a highly concentrated oil. Try using coconut butter, cocoa butter, cupuacu butter or shea butter that has a proven anti-ageing effect. Apply the hand mask and let it sit for 15 minutes.
Home treatments for feet
Foot soak
Foot soak equals 100% relax combined with a perfect way to soothe tired feet, fix callus and make you feel fresh. The majority of foot soaks are antiseptic which is another asset of this treatment that needs recognition. A standard foot soak session should last 15-20 minutes.
For home foot soak, collect salt, baking soda or herbs. The former is supposed to give you extra skin softening effects. You can use any type of salt you like, which means that you can grab either health salt or common salt – both work equally well. Each session of foot soak can be enriched with essential oil that gives you extra benefits. The very oils are: mint oil, eucalyptus oil, lemon oil, tea tree oil, juniper oil. The latter is known for killing bacteria, which is important when it comes to foot care in particular. Baking soda is able to soften callus and is also antiseptic. Moreover, this white powder normally used in the kitchen deals with the excessive perspiration of feet which makes it one of the finest foot soak ingredients. Similar effects can be achieved with herbal foot soaks. Try throwing some thyme, rosemary and lavender to warm foot soak.
Foot scrub
Just like the hand scrub, foot scrub is one of the best treatments to get smooth and revived skin. Exfoliation reveals new, smooth epidermis and frees your feet from the dead cells. It's advised to do foot scrub after foot soak to achieve better results. Another benefit of foot scrub includes boosted blood flow. When it comes to preparation, you can do this just like you would do this with hand soak and enrich with a few drops of essential oil. Try combining sea salt with argan oil/cream/natural yogurt. After removing your homemade foot scrub, always follow with favorite foot moisturizer.