Nanoil Argan Oil deals with free radicals, delays ageing, nourishes and promotes suppleness. It boosts hair shine and is well-tolerated by all skin types, including sensitive, acne-prone and mature. This extract is also a highly effective eye serum. On top of that, it is certified by ECOCERT as an eco-cosmetic of the highest quality.
There aren't many beauty products like Nanoil Argan Oil. This cold-pressed, unrefined and 100% organic cosmetic oil is extracted from the fresh kernels growing on Argania Spinosa trees. Called liquid gold of Morocco, argan oil offers a wide range of benefits for skin and hair.
Argan Oil NANOIL
The dark glass bottle is filled with essential fatty acids that argan oil is full of. Researches show that those substances make up 80% of the pure argan oil. These are omega-6, oleic acid and omega-9, which make argan oil universal, multi-tasking and perfect for all types of hair and skin. The concentration of vitamin E is also high, which is important because it promotes the youthful appearance of skin. Other nutrients that can be found in pure argan oil include:
carotene,
squalene,
-butyrospermol,
linoleic acid.
Being so rich in nutrients, argan oil is a potent beauty product that suits everyone. Locking moisture inside the skin and hair, it deals with dehydration. It's also worth realizing that Nanoil Argan Oil is perfect as after sun care. It soothes irritated skin and replenishes it with water.
And the best thing about Nanoil Argan Oil is that you are the one who decides how and when to apply it. Its wide range of benefits make this product every woman's best friend.
Applications of Nanoil Argan Oil
No matter if you apply it in the morning or evening, this essence of beauty that Nanoil Argan Oil surely is will help you achieve all your beauty goals. Below, you can find just five of the most common applications of pure argan oil.

1. Argan oil on hair
Nanoil Argan Oil offers a fine treatment for all hair types. Thanks to regular application of the oil to the strands, you create lasting protection from UV and high temperature. Additionally, this extract has a positive effect on weak and brittle hair, helping it become stronger and more elastic. You can use argan oil to prevent splitting and boost shine. It even deals with thinning and stimulates follicles to grow more hair.
2. Argan oil on skin
Massage a few drops of argan oil to your body to minimize the appearance of cellulite and stretch marks. This is a deeply reviving oil that defies ageing. Some users confirm that regular application of argan oil helped them deal with common skin concerns like acne. As mentioned above, skin irritated by the sun loves being treated with argan oil.
3. Argan oil on face
The amazing thing about Nanoil Argan Oil is that it replaces a few common face products. This means that you can use it if you run out of an eye serum, night face cream, anti-ageing cream… You can also add a few drops of this golden oil to your favorite skin care product to boost its effects.
4. Argan oil on feet
Here is another brilliant thing about argan oil – you can use it to soften the skin on your feet. If your shoes happen to harm your feet, apply a few drops of the oil to the lesion to speed up the healing process.
5. Argan oil on nails
Argan oil strengthens, nourishes and repairs damaged fingernails. Soak the hands in a warmed argan oil and keep them submerged for a few minutes a day. This way, both the nails and hands will look gorgeous.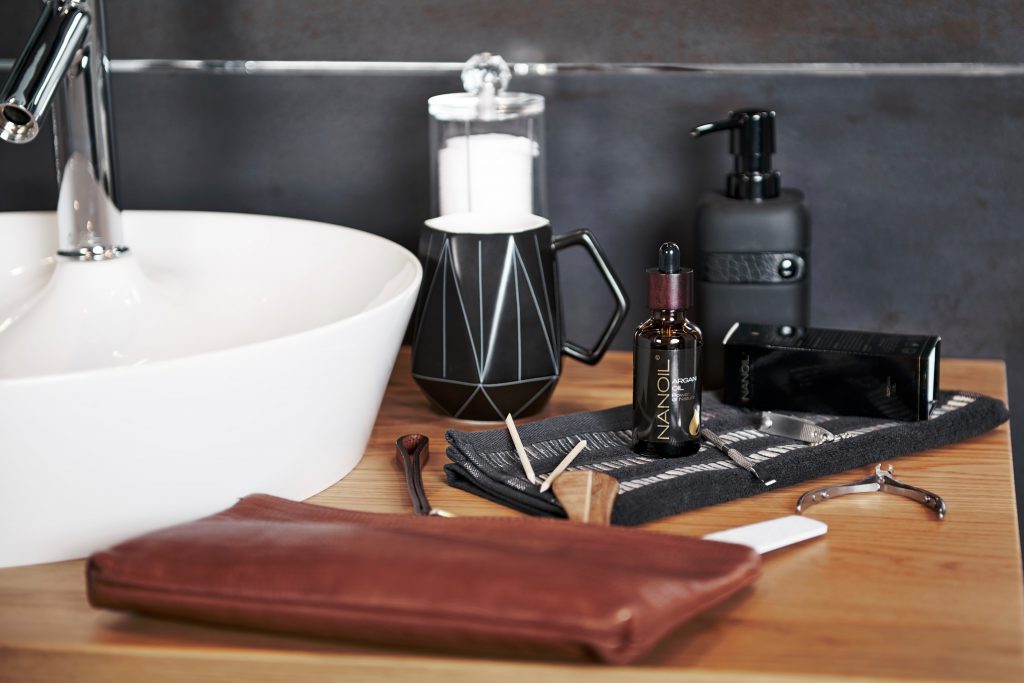 Visit nanoil.co.uk and order a bottle of Nanoil Argan Oil today!