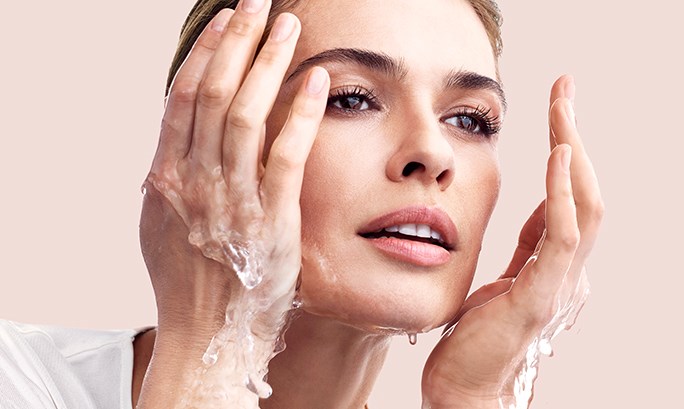 Do you know that you should treat your skin with beauty products containing hyaluronic acid on a daily basis? Few are aware of the enormous benefits that this natural substance has for our skin. It is time to change this and let more people know about the jaw-dropping effects that a hyaluronic acid face serum produces. Discover the best moisturizers now!
When we hear "hyaluronic acid", we often think of some fancy aesthetic medicine procedures. Actually, this association is not bad; take hyaluronic acid injections for example, which are a common method of lip augmentation. Obviously, this is not the only application of hyaluronic acid that the world of beauty make use of.
Hyaluronic Acid: What is it? How does it work?
Although the name may suggest this, hyaluronic acid has almost nothing in common with how regular acids work – it does not have an exfoliating effect, is nothing like a facial scrub, does not cause photosensitivity and there is no need to follow HA with a SPF.
This substance is a naturally moisturizing constituent of our dermis. It belongs to humectants, which means that it binds water and locks it deep under the skin's surface for lasting hydration. Despite being our skin's natural building block, the levels of hyaluronic acid in skin decrease as we get older. Therefore it is so important to deliver hyaluronic acid to skin through a daily beauty ritual.
The key benefits of hyaluronic acid include:
locking moisture in skin
refining skin's texture and improving resilience
protecting skin from losing water
restoring good health and radiance to skin
defying ageing
soothing skin irritations
How to apply hyaluronic acid?
Hyaluronic acid can be bought as a semi-finished product – it is available in various concentrations. Applied in this form, hyaluronic acid is highly effective, provided that it is put on damp skin (it needs to draw water molecules to deliver them deeply into the skin). Therefore, it works best when incorporated into a hyaluronic acid face serum – highly concentrated, formulated with HA of adequately small molecules, deeply moisturizing and truly efficacious. You can expect these qualities if you choose a high quality hyaluronic face serum.
THE BEST MOISTURIZING HYALURONIC FACE SERUM
From all hyaluronic face serums available on the market, we picked up the best-selling ones. Popularity, quality of ingredients and effects were the key determinants that helped us arrange the products in the order. Here are the best hyaluronic acid face serums that you can reach for to deliver a daily portion of hydration to your skin.
● Nanoil, Hyaluronic Face Serum
The first and well-deserved place is taken by Nanoil face serum formulated with low molecular weight hyaluronic acid. This is an efficacious and intensely hydrating formula designed for day-to-day skin care (suitable for all skin types). It does not only improve moisture retention and restore dry skin's balance, but also soothes irritations, smooths skin out, enhances radiance and visibly rejuvenates skin.
It takes care of skin in a comprehensive way granting youthful and beautiful look. What is important, Nanoil Hyaluronic Face Serum is a paraben-free and silicone-free formula that measurably improves skin appearance without overburdening or creating any greasy feel on skin's surface. It is appropriate for vegans and all fans of natural skin care. Owing to a well-absorbed form of hyaluronic acid, Nanoil Hyaluronic Face Serum gives you 50 ml of moisturizing face serum promoting youthful-looking and flawless skin for many months.
simple ingredients, competitive price, intense hydration, lightweight and paraben-free composition, low molecular weight hyaluronic acid, anti-ageing effect, big size, vegan, highly efficient, elegant design
● The Ordinary, Hyaluronic Acid 2% + B5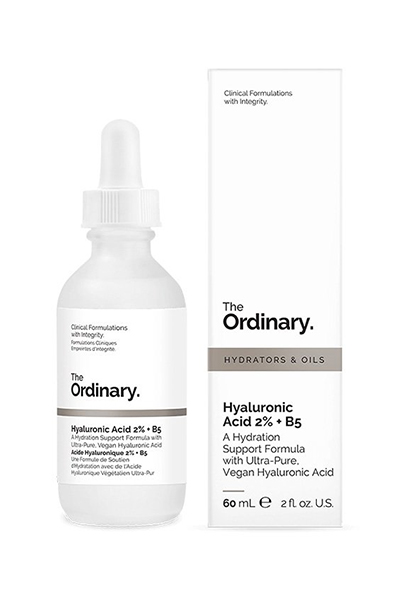 Another suggestion is one of the most popular face serums produced by The Ordinary, that is a deeply moisturizing skincare product formulated with 2% hyaluronic acid and vitamin B5. The size is slightly smaller because the bottle holds only 30 ml of the lightweight serum, which means that you will enjoy a shorter skin hydrating treatment.
The key ingredient here is hyaluronic acid that is enriched with irritation-soothing vitamin B5. It is suitable for all skin types, especially for dry skin, yet it is suggested running a patch test before starting the treatment. If The Ordinary Hyaluronic Acid 2% + B5 appears to be suitable for you, you can expect it to moisturize and soften the skin after just a couple of uses, yet it will not rather rejuvenate skin as much as Nanoil does.
fair price, different forms of hyaluronic acids, enriched with vitamin B5, vegan, moisturizes and softens skin
● Niod, Multi-Molecular Hyaluronic Complex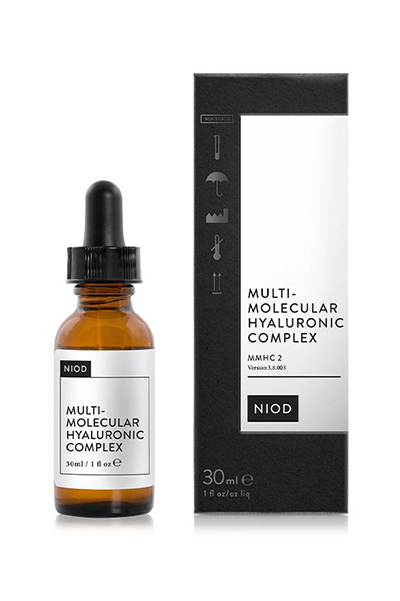 Kept in a classic color scheme (black and white), hyaluronic acid face serum by Niod is a proposition for those with fat wallets.
The thing that distinguish this face serum and at the same time seems to be the biggest asset of this product is the combination of 15 hyaluronic acid compounds. Apart from them, the list of ingredients also includes sage, plantain and amino acids. Thanks to these constituents, Niod Multi-Molecular Hyaluronic Complex supplies skin with water effectively. However, it may appear to be too saturated for some skin types, which may lead to irritations. The strong suit of this product is a vegan-friendly formula containing neither oils nor silicones. pH of 4.0-5.0 is well-tolerated by skin.
effective hydration, various forms of hyaluronic acid, vegetable extracts, neutral pH, vegan
● Hylamide, Booster Low-Molecular HA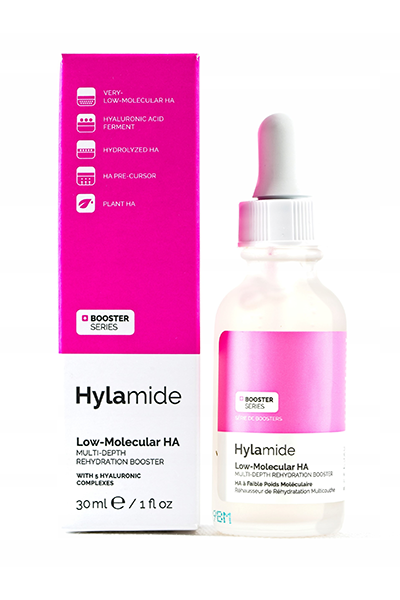 Lovely packaging of another face serum based on hyaluronic acid hides 30 ml of intensely hydrating formula. This Hylamide's cosmetic is packed with five types of hyaluronic compounds.
This is another product that offers us a blend of a few forms of hyaluronic acid, instead of using just one able to penetrate skin deeply. This moisturizing face serum Hylamide Booster Low-Molecular HA offers a substantial portion of hydration for skin to make it smooth, soft and more elastic. Undoubtedly, this is one of good, but definitely not the best hyaluronic acid face serums available at this price.
girlish design, hydration, resilience improvement, a few forms of hyaluronic acid, good price
● Mincer Pharma, NeoHyaluron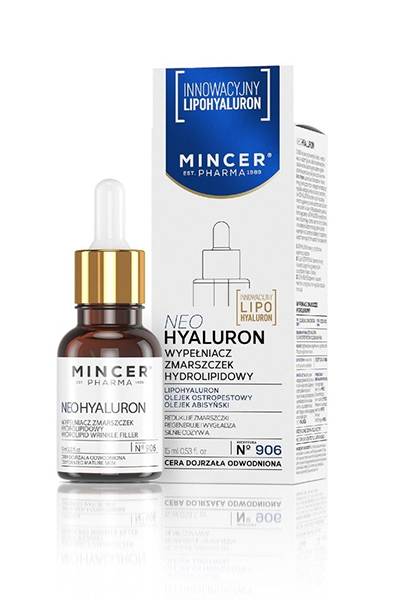 A slightly lower place in this compilation is reserved for Mincer Pharma face serum. This brand describes its product as a multi-phase wrinkle filler for hydro-reconstruction.
Okay, it may sound somehow obscure but this means that NeoHyaluron by Mincer Pharma moisturizes and leaves skin supple to create younger look and improve skin's health. This is another hyaluronic acid face serum that can have a rejuvenating effect, although – which is worth pointing out – wrinkle reduction is barely noticeable in all users. Among the ingredients used in NeoHyaluron, next to the hulauronic acid there is lipohyaluron and hyaluronic acid nanofiber meshes, which are substances delivering comparable effects. Sadly, the product has one big minus that is the price that does not go hand in hand with the effects it is able to produce. We buy only 15 ml of a concentrated face serum, which does not last long.
hydration, wrinkle reduction, a few moisturizing ingredients, lightweight composition, elegant packaging
● Mizon, Hyaluronic Acid 100 Ampoule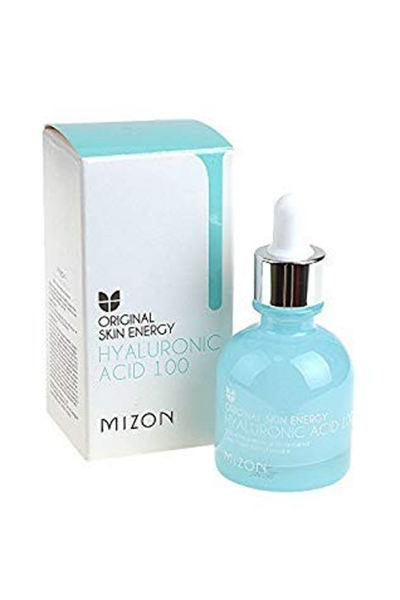 It is time for some Korean-style skin treatment. Among all the beauty products containing hyaluronic acid, we cannot forget about hyaluronic acid ampule by MIZON.
The name of this product may be slightly misleading because we receive a genuine 30-ml face serum – not just one ampule. Undoubtedly, this is an interesting proposition that ensures effects typical of hyaluronic acid: hydration and nourishment. The composition of Hyaluronic Acid 100 Ampoule in 50% is made up of HA combined with extra substances responsible for defying ageing. On the other hand, the list of ingredients is rather long and not-so-natural, which is something worth paying attention to in the case of sensitive skin.
lightweight composition, hydration, revitalization, easy application, 50% of the formula is occupied by hyaluronic acid
● Medik8, Hydr8 B5 Liquid Rehydration Serum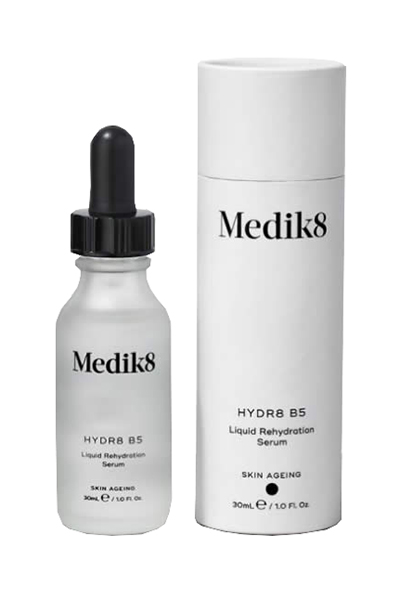 The last face serum in this mini-ranking is destined for dry and dehydrated skin serum by Medik8. It is formulated with a regular hyaluronic acid, and therefore it is able to maintain hydration in skin pretty effectively. However, Hydr8 B5 Liquid Rehydration Serum does not have a strong anti-ageing effect unlike some of the above-listed skincare products.
Apart from the hyaluronic acid, this cosmetic is also enriched with vitamin B5 that is responsible for reinforcing hydro-lipid barrier in skin. In whole, this face serum by Medik8 offers a pretty good product that is recommended to be used as a complementary treatment for those who has undergone some dehydrating cosmetic procedures. Although this cosmetic leaves skin soft and smooth, we have to pay a really high price for the 30-ml hyaluronic acid face serum, therefore in this case choosing a product offering a wider range of effects seems to be more beneficial.
hydration, pure hyaluronic acid, enriched with vitamin B5, lightweight formula, minimalist design, suitable as a complementary treatment